People with celiac disease often have the short end of the stick when it comes to food. Celiac disease affects the body by causing severe inflammation whenever gluten is consumed, making it difficult for those diagnosed to find meals and snacks that won't harm them.
When Yum Baked Goods owner Kim Brown and her sister were both diagnosed with celiac disease, they realized how slim the options were for baked goodies in particular. Gluten is most commonly found in wheat, barley, and rye, virtually eliminating sweets from the celiac diet.
Brown says the lack of dessert options was incredibly frustrating, and she knew she wasn't the only one suffering.
After moving back to the Mt. Pleasant area in 2015 to get married, Brown was too far from her job in the auto industry and decided to retire.
"I spent about a year going back to Mount Pleasant and [baking] has always been my passion," she says. "So I decided to go ahead and start the business, so we've been doing it since 2017."
Using a homemade blend of different wheat-free flours, Brown can make virtually any baked good.
"I have a few people who like French macarons, and we make them dairy-free, and we cook them for them," she says. "I work with people. If they miss or yearn for something, I'll do my best to make sure I can put that together.
Kim Brown makes her baked goods in her own home, catering to those with specific dietary needs.
Operating under the Cottage Food Act, Brown sells direct to customers and delivers their treats herself. She is also able to sell at the farmer's market when it is in season.
The law prevents him from making certain desserts like cheesecake, as it would require him to have a commercial-grade refrigerator. But she says developing personal relationships with clients makes up for that.
"I have a very solid base of clients who know they can rely on me," says Brown. "They know what they're getting is 100% safe, and I think that's essential."
As more and more people discover that they have celiac disease or a general gluten intolerance, the gluten-free diet has become popular in recent years. That's had a positive impact on the number of options for celiacs, Brown says, but it's also caused food service workers to take the issue less seriously.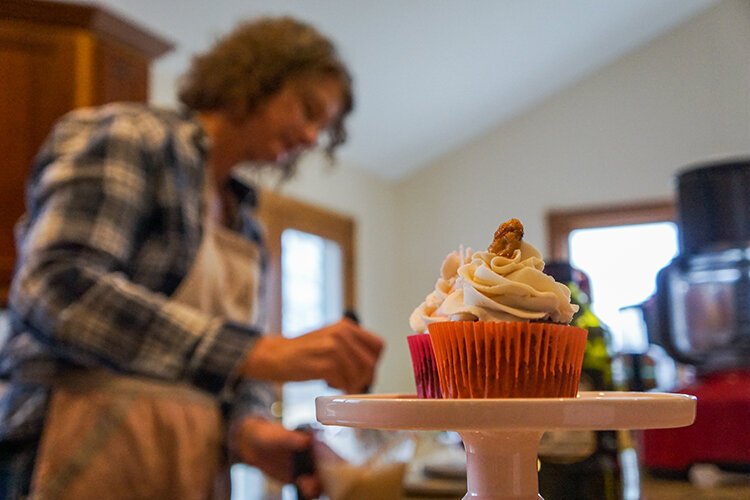 Kim Brown displays her cupcakes on her kitchen counter as she mixes ingredients for other baked goods."They think I'm just picky, or it's just miserable people on these awesome diets like keto, or if you're doing Mediterranean or whatever, so I think that's a bit difficult, in terms of the people who legitimately have to deal with this," she says. "And I'm not saying if you're sensitive or if you're intolerant that's not as bad, but when you're talking about celiac disease, you're talking about a medical condition that can really harm someone s 'he has crossed contacts.
Brown prides itself on always having completely safe and gluten-free ingredients. There is no risk of cross-contamination as the kitchen is completely gluten-free.
Although she plans to start a physical storefront, Brown says she is comfortable with the business she has created.
"I was close in 2020 and then I was glad I didn't, so I'm probably busy six days a week over the summer," she says. "And during the months off, I have something to do every week, but not on the day."
To place an order or to learn more about what Yum Baked Goods has to offer, visit yumbakedgoods.com or facebook.com/kimyumbakedgoods.