You may be surprised to learn that all baked goods sold at Cafe Protagonist and Pieces board game bar and cafe – birthday cakes, gourmet cookies and muffins galore – are 100% vegan. But pastry chef Amanda Leone urges customers not to let that fact deter them from indulging.
"Even now in 2022, with so many great vegan options, there's a belief that if it's vegan, it'll be gross or not taste good, or it'll be like a pile of dry dirt," Leone says. "Don't try because you're afraid of the word vegan."
Leone, a vegetarian himself, landed in the baking arts on a whim by choosing a college major. After being around the restaurant industry for a while, they landed at Pieces. After discovering Leone's expert baking skills, the owners of Pieces promoted them to pastry chef for Pieces and Protagonist Cafe, their other catering business, and the rest is history.
Leone's favorite things to do for both restaurants include a seasonal pumpkin muffin with nuts and fresh cranberries, a salty chocolate chip cookie ("I probably eat one every day I work", says Leone) and personalized birthday cakes – especially when customers give their creative freedom.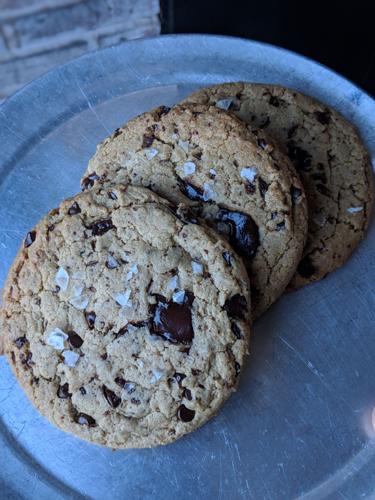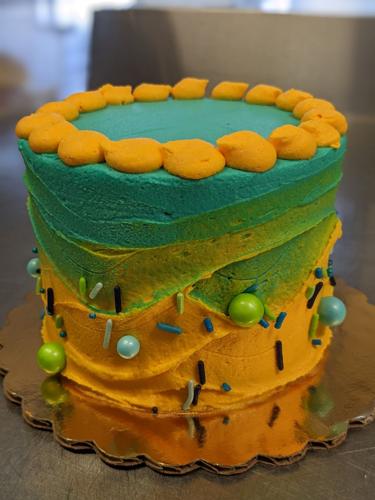 "I love it, because whatever hits me that day, I can kind of throw on a cake – my canvas – and let the world know about it," Leone says.
Here, Leone tells us about the falafel sandwich they ordered two days in a row, baking Christmas cookies with their family, and how to use canned beans and tomatoes in your kitchen.
What's the best thing you've ordered recently at a local bar or restaurant? I loved going to The Vine [Mediterranean Cafe]. I hadn't been there for a long time, just with the pandemic and the chaos of the world, but I recently got their falafel sandwich. It was so good that I went back the next day and got another one because I was like, "I need to have this two days in a row." It is so good.
What is the best style of pizza? I like a slice of New York style; a piece of floppy disk that you have to fold in half to eat reigns supreme. And I'm going to be controversial and say that pineapple goes 1000% on pizza. Especially when you pair it with black olives because then you get a little sweet, salty, kind of like this chocolate chip cookie.
What is your favorite culinary memory? When I was a kid, around Christmas, my mom would make sugar cookie dough and cut out a bunch of Christmas-like shapes. Then she would pull out this sheet of undecorated Christmas cookies and let my brother and I do whatever we wanted with them. She would have little boxes of premixed frosting on the supermarket shelves. She was dyeing one red and one green, and we had these little silver balls that you're not supposed to eat, but we did, and Christmas-themed sugar. And we'd take a little butter knife and spread the icing on it and sprinkle a little bit of sprinkles. It was a fun thing we did every year.
What ingredients do you think everyone should keep at home and why? I always have different kinds of canned beans and a few cans of tomato products: tomato sauce, crushed tomatoes, diced tomatoes. I wouldn't necessarily use those two together, but I feel like they're good basics to have. If you're making a salad and need a little juice and want to make more protein, just drain a can of beans, season them, roast them in the oven for a minute until soft. they are a little crispy. then toss them on top of your salad. Or tomato: You can do a million things with this. Toss it into a soup to bulk it up, make pasta sauce, or turn it into a Bloody Mary. I mean, the possibilities are endless.
What is your most controversial food opinion? Cottage cheese is disgusting. It shouldn't exist. It's so awful. I had this book since I was little. It's like a Dr. Seuss book, "All About Me." There were empty things to fill in with your parents, and some of it was your favorite food, and here's the food I really wish I never had again. Even the five-year-old me hated cottage cheese.
Protagonist Cafe, 1700 S. 9th St., Soulard, St. Louis, Mo., 314-833-3085, protagonistcafe.com
Pieces Board Game Bar and Cafe, 1535 S. 8th St., Soulard, St. Louis, Mo., 314-230-5184, stlpieces.com