PPies, pies, donuts and all manner of baked goods were a popular treat in the Grays Harbor area at the turn of the 20th century. From the shores of Joe Creek (near Pacific Beach State Park) to the cities of Aberdeen and Hoquiam, they were popular with people from all walks of life in the region. Because of this, they have become a piece of Grays Harbor history.
"If I were a poet," wrote an anonymous reporter in the Aberdeen Herald on August 27, 1896, "I would write a sonnet in honor of the North Beach huckleberry, and say something like this: Hail , the sweetest, juiciest, most delicious fruit on the entire Pacific coast! Crimson and violet beauty of the green valley of Joe Creek, I will sing your praises! What are California grapes or pears or raisins; what are all the figs and lymes [limes] and berries of the tropics compared to you! As long as my memory lasts, my mouth will water for your rich, deliciously tangy flavor. Far above the French cook's $80 a month pork fat pastry, I appreciate the rich, juicy, fragrant, delicious pies the average 'bach' [bachelor] can make you without shortinin [shortening] at all."
Desserts were usually on the menu at local restaurants. When the Aberdeen Hotel reopened on July 4, 1895, for example, they served a celebratory dinner. Dessert included cherry, lemon and raspberry pies. The Vienna Bakery in Aberdeen also had a restaurant which served its baked goods as part of its regular menu. Their Christmas dinner in 1891 included clam chowder, stuffed turkey with cranberry marmalade, oyster pancakes and came with a choice of plum pudding with cherry sauce or cream pie with lemon for dessert.
Although bread was their main seller, local bakeries often also sold cakes, donuts and pastries. Professional baking was a competitive business and Grays Harbor had many bakeries over time. Stores included Townsend's, which operated both Aberdeen Bakery (414 East Heron Street) and Model Bakery (112 South G Street) in 1906. Townsend's eventually sold to the Coast Baking Company (113½ South G Street) , which billed itself as, "The Baking Specialty Shop." They listed some of these specialties in an Aberdeen Herald advertisement on January 26, 1911, including filled crown cakes, raisin cakes, New England mocha cakes, buttered snails, French crullers, table queen's bread, homemade pies – "like mother used to make" – and many types of French pastries.
Local grocers sometimes also sold pastries in the days before supermarkets. Dean's (211 South G Street), for example, advertised in the Herald on Halloween 1907 that it offered "a full line of delicious pastries, cakes and daily fresh bread" in addition to their line of tea, coffee , groceries, crockery and "fresh fruit on every train.
History of Grays Harbour: pies as a marketing tool
Sometimes companies used desserts to attract customers and promote new products. In March 1895, for example, the Kroenert brothers in Aberdeen served samples of Saratoga donuts and crisps—potato crisps—cooked fresh with cottolene, a type of shortening. Geo. The J. Wolff store (220 Heron Street) hired Roberta Wing to do a cooking demonstration with Olympic patent flour and Olympic cake and pastry flour from Tacoma's Puget Sound Flouring Mills for an entire week in June 1905.
The groups also held bake sales to raise funds. The Congregation of the Children of Mary of St. Egedius Church in February 1907, for example, held a "home bake sale" at the Kolts furniture store, located in Aberdeen Masonic Temple.
History of Grays Harbour: Kitchen Columns
The Aberdeen Herald newspaper has published cooking tips and recipes, offering plenty of inspiration for both amateur and experienced cooks. Readers could even get a free cookbook, "Table and Kitchen," from Chicago's Price Baking Powder Company by sending a postcard mentioning the Herald. This book included over 400 recipes and was also available in German and Scandinavian editions.
A regular recipe column in the paper was "The Kitchen Cupboard", a family column syndicated by Anna Thompson. She often wrote about desserts and suggested recipes. "The Fall Party," she said on January 23, 1913, "wouldn't be complete without the Golden Pumpkin Pie." She offered recipes based on egg availability, including Egg-Free Pumpkin Pie and Economy Pumpkin Pie, as well as Rich Pumpkin Pie and Pumpkin Custard Pie when the Eggs were readily available.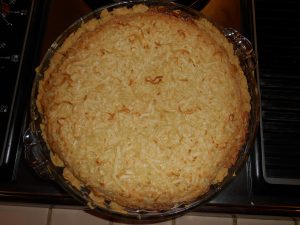 For his column entitled "When Making Pies" from January 25, 1912, Thompson listed a number of pie recipes. These included apple pie – "cheap pie" – pumpkin cream pie and coconut pie, to be made when fruit was hard to come by. For good measure, she also included recipes for plain, ginger, corn, and peach donuts. His "winter desserts" of January 28, 1916 included chocolate cream, Connecticut apple, Marlboro, and lemon pies. Pie was also listed on his sample menus. His May 12, 1916 "Wash Day Menu" completed a lunch of cream eggs, roasted sweet potatoes, and cheese with lemon pie.
A pie didn't have to look boring. Thompson also advised on the presentation. In addition to offering recipes for cranberry, creme de fruits, caramel and lemon meringue pies in her February 17, 1914 column, she suggested that a Christmas pie could "take on a festive appearance by serving it on a lace doily and surrounded by a paper collar. If desired, it can also be adorned with small sprigs of holly.
Today, people can easily find pies, pastries, and other baked goods in grocery stores and bakeries. Although much has changed since the turn of the century, Grays Harbor's love and appreciation for good desserts lives on.